Shutters were until recently associated with the distant past. They appeared in former noble mansions and country estates. Later they were forgotten for many years because they were replaced by modern blinds. Today, traditional wooden shutters are coming back to grace. What's more, they have long left rural areas, appearing also in large cities and windows of modern buildings. Why is it worth installing shutters? What fittings are needed for the shutters to be complete and fully functional? Today we will answer these questions.
Wooden shutters - advantages of using
You can write a long time about the benefits of installing traditional, hinged shutters. The biggest advantages of such a solution are certainly:
• protection against heat loss through leaky windows and protection against excessive heating of the building on sunny, hot days;
• protection of windows, in particular glass, against scratches, breaks, etc .;
• ability to suppress noise from outside of the building;
• anti-burglary protection;
• visual aspect, purely decorative function.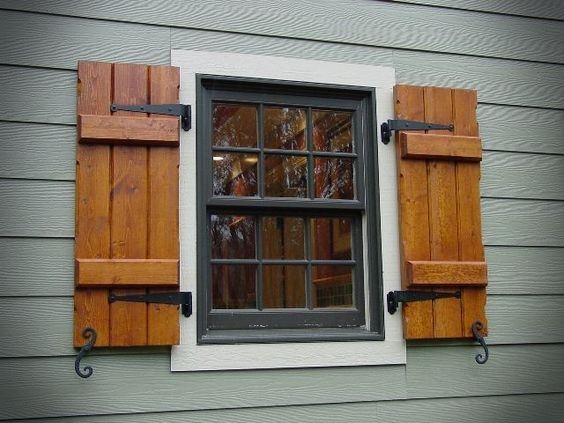 The favorable appearance of the building alone is enough for many people to opt for stylish, classic wooden shutters. The facade of the house, juxtaposed with shutters, gains refinement, elegance, but also a kind of homeliness. The house, whose windows are equipped with shutters, is immediately perceived as a cozy, hospitable and full of freedom.
Due to the socially strong image of shutters in the country estate of important and rich personalities, this motif is eagerly used in hotels and inns - the presence of shutters immediately raises the reputation of the place in the eyes of visitors.
What fittings for shutters? A short guide to the assortment.
Visual value and a lot of benefits from having shutters mean, that more and more people choose to have them. Before we start the purchase, it is worth knowing what else you will need to buy, that the shutters really look exceptionally and are a maximum functional solution.
First of all, we will need appropriate window hinges. They are needed to be able to open the shutters at all. Since the openable shutters - the most traditional ones - do not have any additional support after opening, the hinges for the shutters must be really solid and reliable so that the window sash can be lifted easily and withstand everyday opening and closing. We are facing a dilemma: what hinges to choose for shutters? There are a lot of different hinge designs available on the market. You can choose among various materials, colors, shapes and ... prices. We recommend above all solid, cast iron and steel window fittings. Deciding on such finishing elements for shutters, we gain the confidence that they can withstand even the most intensive exploitation. Do not forget that the external hinges of shutters are exposed to various atmospheric conditions all year round. Doubtful quality fittings can not withstand high and low temperatures or variable air humidity, those hand-forged - will remain unshakeable! Rustic hinges are definitely worth buying, which will not only be solidly made, but will also impress with their classic and at the same time original design, as well as their timelessness and versatility.
In addition to hinges for shutters, a proper closure will be very important. Some people think that this is an unnecessary decorative gadget, but in fact, latches or staples are needed to avoid the annoying, automatic opening of the shutter. The type and appearance of the shutter closure is to be matched to the window shutter hinges, thus obtaining a coherent, harmonious whole.
Although maybe it does not apply directly to the shutter itself, you can not fail to mention the window holders. They should also be adapted to the look of window fittings. After all, when the shutters are open, the windows show themselves in all their glory. The use of plastic window handles in a situation where we equip windows with decorative, practical wooden shutters, is a solution that will undoubtedly spoil the whole effect, giving the whole a grotesque overtone. Stylized, rustic window handles are an excellent choice, beautifully complementing the arrangement of windows and shutters.